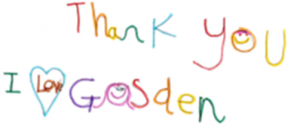 We are incredibly lucky to have been supported by so many wonderful people and organisations.  We are indebted to you all!  If you would like to help or support the school in any way we would be really grateful. Please email achapman@gosden-house.surrey.sch.uk
Special Thank you's go to:
Whipley Manor Farm • Tesco Stores • Various Individual Private Donations and Fundraising support • Our wonderful team of volunteers • Gosden Children First • The Lords Taverners • St Catherine's School• Koko Hairdressers • Godalming carpets • The Rotary Club • Hart Brown • Surrey Gardens Trust • The Halow Project • Community Foundation for Surrey • Manns of Cranleigh • Brewers Paint • The Variety  Club • Bramley Golf Club • The Betty Risely Trust • Hall Hunter • G-Live • Guildford Shakespeare Company • Chambers Guildford • Worshipful Company of IT technologists • Howdens Joinery • P&P Glass • Digital Sign Services • The Reading Trust • Bramley Parish Church • The Wey and Arun Trust

Gosden House School is delighted to announce that it has received an "Outstanding" award in its 2016 Ofsted Inspection
"Gosden House is an outstanding school. Students achieve exceptionally well. They grow in confidence and self-belief and their behaviour, attitudes and manners are exemplary. Students thoroughly enjoy school and want to do their best and, as a result, they make excellent progress.   Teaching and learning are excellent. Staff have high expectations and challenge students of different abilities, including those with the most complex needs."
See the report here: Gosden House School Ofsted Report
Gosden House School is proud to have been awarded the Gold Arts Mark 
Artsmark is Arts Council England's flagship programme to enable schools and other organisations to evaluate, strengthen and celebrate their arts and cultural provision.
Artsmark is nationally recognised as demonstrating excellence in arts and cultural provision and holding Artsmark status demonstrates that our school values the arts and culture.
Artsmark contributes to the cultural aspect of Ofsted's requirement that a school promotes students' spiritual, moral, social and cultural development.
The Arts Council England Artsmark is awarded to schools in recognition of outstanding commitment to the arts and is a benchmark for arts education provision.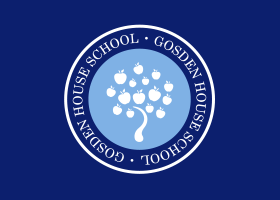 Dear Parents and Carers,
Gosden House School is committed to building strong relationships with families and carers, so that we can build a strong school community and work as a team to support our learners.
We are really keen to understand how we can further improve parental engagement and communications, and need to understand how you are feeling about how we are doing–we can only get better if we know what is working well and less well.
If you could spent some time completing the attached survey, it would be really beneficial for us. The answers you provide are completely confidential and you cannot be individually identified.
Please note that this survey:
Is voluntary. We hope that you answer every question, but you may skip any questions you feel are too personal.
Is confidential. Please do not write your name anywhere on the survey.
There are no right or wrong answers.
Thank you so much for your support
Cindy O'Sullivan, Head Teacher – Gosden House School