WELCOME TO PARKS CLASS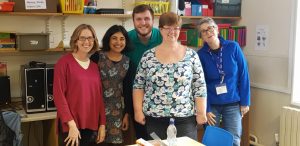 This is our class web page which will give you all the information you need to help with home learning.
Our team consists of Mrs Gidley, Anna Windebank, Wilson, Annette, Kate and Nivi.
We are also part of Sapphire bubble and have Mrs Head, Jane, Germana and Ryan as part of the team.
You can find links to useful websites and learning resources use these to explore different learning opportunities and play online learning games. There is a visual timetable for you to use at home.
There is a variety of activity cards designed by the teachers at Gosden that give you learning ideas to explore at home – use your pack to help you!
You can also find video clips made and chosen by us and other teachers from the school.
I hope that you enjoy exploring the website and learning opportunities created for Parks class. If you have any questions please email me at kgidley@gosden-house.surrey.sch.uk
Enjoy the learning opportunities provided and have fun!
Katy Gidley and the Parks Team
---
Timetable
TA Timetable
Sapphire daily TA slot timetable
Reading Timetable
---
Other Useful Resources:
Sleep Resources: Kindly shared with us by Freemantles School
Sleep – Helping your child to self-settle, a summary – May 2020
Sleep – Top tips to help your child to self-settle – May 2020
Sleep – What is it, how does it impact us and how to get enough of it – Nov 2020
---
Activity Cards
Useful Mental Health Calendar
Some activities to do when you are feeling a little low.
Master Hello Yellow Day Calendar
---
Useful Links
Useful Websites 
https://www.ubisoft.com/en-gb/game/just-dance-2020 
https://www.educationcity.com/ 
https://www.bbc.co.uk/bitesize 
https://en.freedownloadmanager.org/Windows-PC/Nessy-Fingers.html 
https://www.bbc.co.uk/cbbc/shows/blue-peter?d 
---
Videos