WELCOME TO RABBIT CLASS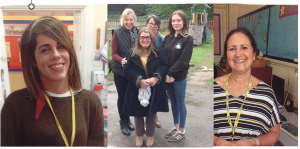 The Rabbits Team are (from left to right) Cristina, Juliette, Emma, Divi, Morgan and Marcia
Hello Rabbit Class, 
Welcome to your very own class page on our website.  This is the place to find out about the team members of your class, it also the place to find lots of brilliant learning opportunities!   There are links to useful websites and different learning resources and online learning games and a visual timetable to use at home.  There are lots of activity cards designed to develop your learning by the wonderful teachers at Gosden.   You will also find relevant video clips especially made by various teachers in the school.    
I hope that you enjoy exploring this website and all of the learning opportunities that have been created here.  If you have any questions please e-mail me at jtate@gosden-house.surrey.sch.uk. 
Enjoy your learning and thank you for your continued support. 
With best wishes 
Mrs Tate 
---
Timetable
---
Other Useful Resources:
Sleep Resources: Kindly shared with us by Freemantles School
Sleep – Helping your child to self-settle, a summary – May 2020
Sleep – Top tips to help your child to self-settle – May 2020
Sleep – What is it, how does it impact us and how to get enough of it – Nov 2020
---
Activity Cards
English
Maths
Happy and Healthy 
Creative and Curious
---
Useful Links
Outdoor Activities

–

The Woodland Trust 
Woodland Trust has some brilliant outdoor learning activities.   You can now access these in Tree Tools for Schools, their online learning hub: http://www.woodlandtru.st/ym4mX 
If you go onto this site, then click onto Outdoor learning then tick sheets, you will find lots of tick sheets that you can take outdoors with you.  These are really good to give a focus to your activity, e.g. listening to the sounds of nature around you.
Useful School links
Websites: 
---
Videos