neral Information Letters to Parents
---
Extra Support and Useful Information
Class pages are located in Current Parent Resources Class Pages
---
World Book Day Information – Thursday 4th March 2021
As previous years the free books are on offer again this year. The vouchers can be ordered online and downloaded, then when purchasing a book online you can either enter the code or attach the voucher, electronic vouchers can also be used in stores. They can be found here:
World Book Day Digital Book Tokens
Wellbeing guides for Parents
The Surrey and Borders Partnership NHS Foundation Trust has produced a variety of videos aimed at supporting young people, families and carers during these challenging times. Recognising that the ongoing Covid situation and another lockdown can make children and young people feel anxious, these webinars have been developed for families and carers to look at anxiety and explore ways to understand and support children and young people. Watch: Parent webinars: Resources to help understand and manage your child's wellbeing during Covid-19
There are also a number of videos for young people which focus on dealing with anger, friendships, low mood, anxiety, self-confidence and self-esteem.
---
This helpful guide from Gateshead Psychological Service is below:
---
Safer Internet Use Support
Online Safety Storybooks
Useful Parental Support
Useful for discussions with your younger children
---
Keeping Active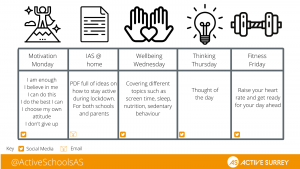 ---
Home Learning Support
LEARNING ON MICROSOFT TEAMS ACCEPTABLE USE PROTOCOLS – PARENT PROTOCOL FOR MICROSOFT TEAMS
Please ensure you child joins his/her session in a in a shared space where you can monitor them. Ideal location is a living or dining room with a blank wall background
Encourage you child if possible to blur or set their background to an appropriate static picture.
Your child must not be joining Microsoft Teams from their bedroom.
No pyjamas, pupils need to be dressed appropriately ready for the day.
Pupils must not instigate one-to-one video calls with any teachers or T.As
Parents and children should not be using the student's login to gain access to the contact details of teachers or other students.
Parents please be mindful that other pupils might see or hear and anything in the background.
Parent and pupils must not use Microsoft Teams for any non-school related activity.
Microsoft is not to be used if your child wishes to 'chat' online to a friend outside of the learning sessions.
Please use the technology we have provided responsibly and respect and support our Gosden House staff as they use this new remote teaching tool.
Any misuse of Microsoft Teams will be seen as a serious breach of trust and referred directly to the school designated Safeguarding Leads including the Head Teacher.
Education City
Please see document below which supports with Education City Log ins.
Useful Links
Lockdown Learning: BBC puts school materials on TV, iPlayer and online – BBC News  The BBC is helping school children keep up with their studies amid the latest lockdown to control Covid-19 in the UK. Primary and secondary schools are closed to most pupils, and from Monday 11 …
www.bbc.co.uk
The Royal Horticultural Society Useful Support