GOSDEN PTA
Gosden House School is fortunate to have a fantastic PTA.  Events such as quiz nights, summer and Christmas fairs, raffles, etc.   Events are published on our calendar on the front page of our website .Gosden House School Some new dates:
The PTA is involved in fundraising and we organise social events for parents and children, especially as our family members do not get to see each other frequently, so it is important for maintaining our community spirit. PTA also raises money to support the specific needs of our school.
The PTA makes a real difference to our school and their pupils, providing extra resources and, in some cases, making it possible for activities, such as school trips and family events to take place.
In a world where everyone's time is precious getting people to join the PTA can be hard. But all parents and teachers are invited to join or get involved, even if little time is available.
Committee GHS PTA 2021
Chair - Rowena Moore
Vice Chair - Kim Cockerill
Treasurer - Emma Sterry
Secretary - Janine Nelson
Class Reps – GHS PTA 2021
Robins – Gemma McMurtry
Owls – Hannah Rhoads
Rabbits – tbc
Badgers – Kim Cockerill
Foxes – tbc
Squirrels – Kim Blondell
Woodpeckers – Valeria Salgado
Simmonds – Janine Nelson
Hawking – Chamari Fernando
Parks – Holly Choudhry
PTA NEWSLETTER LIBRARY
---
PTA EVENTS AND FUNDRAISERS
29 March to 5 April - The Virtual Balloon Race
"What is a virtual balloon race?" I hear you ask! Well, essentially it's an opportunity for you, your family and friends to get creative and get competitive! For only £3 you can personalise your own online hot air balloon, give it a name and pitch it against other balloons in our Gosden House Virtual Balloon Race. You'll be able to see the balloons 'in flight' as the race happens and experience nail biting moments as the leaderboard changes.  Prizes are on offer for the top 3 balloons, as well as for the last place contender, including vouchers for Dominos Pizza and Sarah's Pop Up Gifts shop, who sell fantastic home accessories and gifts.
This event is being organised specifically to raise much needed funds to enrich our children's experience at Gosden House. Do share with your family and friends as the more balloons involved the better the experience!
Take a look at https://www.balloonrace.com/Gosdenpta, our poster attached and our Facebook page @GosdenPTA for lots more information.
Easter Sponsored Walk - Easter Holidays deadline for sponsorship money 30th April 2021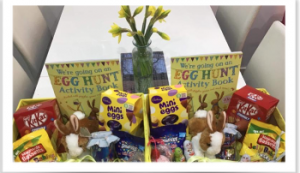 Great Gosden Bake - 13th June 2021
Charity Golf Day - 17th September 2021
---
YOUR SCHOOL LOTTERY
Don't forget we also run a weekly school lottery
This is a great way to support the school, whilst also giving yourself the
opportunity to win some cash and other exciting prizes.
Signing up is easy and can cost no more than £1 a week, so why not visit
www.yourschoollottery.co.uk/play and search for Gosden House - you could
be in with a chance of winning a jackpot of £25,000 with a guaranteed weekly prize for Gosden entrants
which currently stands at £17.Best of luck!
---
In-School Fundraising
As part of our fundraising, we are now introducing Amazon Smile. We are asking parents and carers to order through Amazon Smile when you are ordering on Amazon. This will then donate a small percentage of your purchase to our school.
To do this all you have to do is click on the following link and order as you normally would:
https://smile.amazon.co.uk/ch/1049925-0
---
Gosden House also has a support group charity called Gosden Children First - details of this will be arriving on this page soon.