WELCOME TO ROBIN CLASS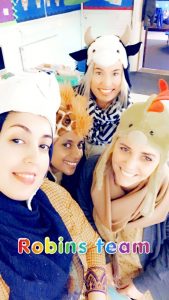 Here you can find lots of useful information to help your child learn and see who the class team is. There are some very useful links here to games you could play and lots of activity cards with ideas for activities you could do at home. There are two timetables. One is for school and one is a visual timetable for home learning if we are not open. You can also find lots of brilliant video's made by all the staff at Gosden that will give you lots of ideas on things you can do at home and how best to use the home learning pack.
If you have any questions, please email me at: mreddick@gosden-house.surrey.sch.uk
Thank you for visiting our page!
Miss Reddick
---
Timetables
---
Other Useful Resources:
Sleep Resources: Kindly shared with us by Freemantles School
Sleep – Helping your child to self-settle, a summary – May 2020
Sleep – Top tips to help your child to self-settle – May 2020
Sleep – What is it, how does it impact us and how to get enough of it – Nov 2020
---
Activity Cards
---
Useful Links
http://www.familylearning.org.uk/phonics_games.html 
https://www.phonicsplay.co.uk/Phase2Menu.htm 
https://www.bbc.co.uk/cbeebies/games 
http://www.crickweb.co.uk/Early-Years.html 
https://www.abcya.com/games/shapes_geometry_game 
---
Videos